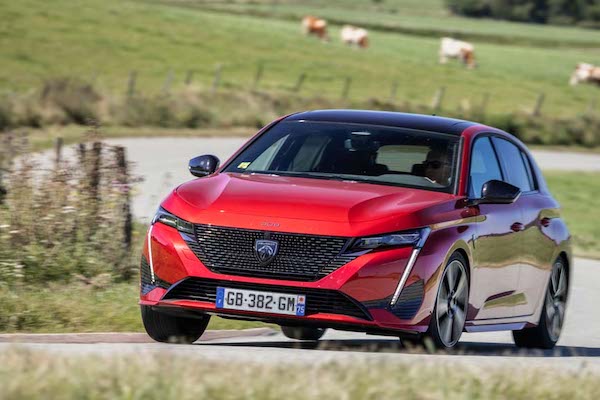 The Peugeot 308 III enters its national Top 10 in January. Photo largus.fr
Update of 05/24/22: Now with the Top 150 models.
The year began on a negative note in France with a further fall in new car registrations of -18.6% year-on-year, to just 102,901 units. Gasoline sales plunge 31.5% to 38,752 units and represent 37.7% market share versus 44.8% last year, diesel implodes 41.1% to 18,868 units and represents 18.3% market share versus 25.3% in January 2021, HEVs rise 12,9 percent to 22,660 units and 22 percent market share from 15.9 percent last year, BEVs climb 57.9 percent to 10,217 units and 9.9 percent market share from 5.1 percent, and PHEVs drop 3.2 percent to 7,934 units and 7.7 percent market share from 6.5 percent.
Peugeot (-21.5%) is losing more ground than the market, but at 19.9% market share, it is back in first place, far ahead of Renault (-17%) at 15.2% market share. Citroën (-13.9%) is holding up well and is back above the symbolic 10% market share mark at 10.3%. Dacia (-34.5%) is in great difficulty with a comparison base from a year ago that involved the launch of the Sandero III. Toyota (-20.6%) is ahead of Volkswagen (-13.8%) for 5th place overall, while the two main Korean brands are once again surprising with year-on-year increases: Hyundai is up 13.2% to 7th place, and Kia up 6% to 8th place. Ford (-35.9%) and Opel (-13.8%) complete the Top 10. Unusually, no premium brand is in the Top 10, with BMW (-19.9%) falling to 11th place, Audi (-13.9%) to 12th place and Mercedes (-14.4%) to 14th place, down from 7th place in December and over the full year 2021. Mini (+33.7%) has the largest increase in the Top 25, at 13th place versus 19th for the year 2021, with MG (+344%), Mitsubishi (+144.6%), Alpine (+81.1%), Cupra (+74.6%) and Lexus (+19.4%) also up. Newcomer Lynk & Co. moved up five spots to a record 31.
Model-wise, the Peugeot 208 (-4.4%) is back up to 7.4% market share, its highest level since April 2019 (8.9%) which was impacted by Covid-19 dealer closures. The Renault Clio (-21.1%) and the Peugeot 2008 (-20.1%) follow as in December and over the year 2021. The Citroën C3 (-10.2%) resists and climbs one place to 4th place ahead of the Peugeot 3008 (-26.3%), which is in difficulty but has climbed two places to 5th place compared to last month. Below the Renault Captur (-18.6%) and Dacia Sandero (-51.3%), the Peugeot 308 III makes its first appearance in the French Top 10 in 8th place with 2.2% of market share. As for the Renault Arkana, it confirms the success of its launch by signing a third Top 10 at the 9th place. The Dacia Duster (+7.4%) completes the Top 10. Just below it, in 11th place, the Toyota Yaris Cross is the best-selling foreign vehicle (although manufactured in France), followed by the Ford Puma (15th) and the Mini Hatch (19th). The foreign leader for the year 2021, the Toyota Yaris (-75.7%) falls to 32nd place. The Dacia Spring loses one place and is now in 14th position.
Previous post: France Year 2021: Peugeot overtakes Renault for the 1st time since 1939, 208 best sales in a stable market (+0.5%).
One year ago: France January 2021: Dacia Sandero is the best-selling brand for the first time, market down -5.8%.
Top 50 all makes, Top 100 models and Top 10 BEV of January 2022 below.