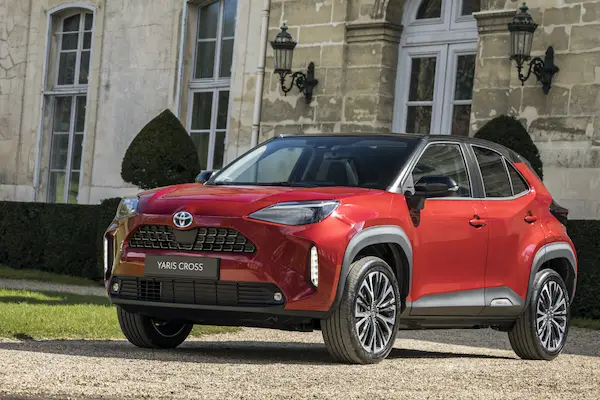 Toyota ranks a record 3 in France in October. Photo largus.fr
After 14 consecutive months of decline, the French new car market confirmed its return to growth with a third consecutive year-on-year increase of +5.4% to 124,982 registrations in October. However, this is an abysmal decline of -33.9% compared to October 2019, before the pandemic. Year-to-date volume remains frankly negative at -10.3% y/y to 1,237,049 and down -32.4% or nearly 600,000 units from the first 10 months of 2019. For the second consecutive month and the second time, BEVs outperformed diesel models, but this time by only 21 units. The result is an average CO2 emission of 100.7g/km, the second lowest ever recorded after last month (98.3).
Gasoline sales are up 8.1% year-over-year to 46,061 and 36.9% market share from 36% a year ago, but are down -17.8% year-to-date to 464,575 and 37.6% market share from 41% in the same period in 2021. Diesel is down 26.4% to 16,845 units and 13.5% market share from 19.3% in October 2021, and drops 33.5% year-to-date to 199,157 units and 16.1% market share from 21.7% last year. Hybrids jump 32% to 28,910 and 23.1% market share from 18.5% a year ago and are up 11.7% year-to-date to 266,872 and 21.6% market share from 17.3% last year. This includes 149,232 full hybrid vehicles (+30.7%) and 117,640 light hybrid vehicles (-5.7%). PHEVs are down 3.6% to 11,108 vehicles and 8.9% market share from 9.7% in October 2021, and down 12.1% YTD to 99,662 vehicles and 8.1% market share from 8.2% last year. Finally, BEVs gain 8.2% for the month, to 16,866 and 13.5% market share from 13.1% in October 2021, and jump 28.8% YTD, to 157,831 and 12.8% market share from 8.9% in the same period in 2021.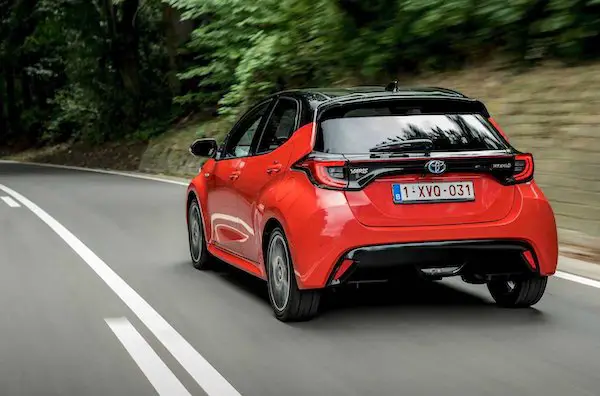 The Toyota Yaris almost doubles its sales over one year in October.
In the brand rankings, Peugeot (-2%) and Renault (-10.1%) failed to catch up with market growth and posted negative year-on-year results, but Peugeot's market share this month was higher than last year, at 16.9% versus 16.5%. This is not the case for Renault, at 14.7% versus 15.7%. This was not the case for Renault, at 14.7% compared with 15.7% year-to-date. We have a massive event below: Toyota jumps 55.2 percent from the previous year to third place for the first time, its previous best being fifth place. It breaks its market share record at 8.2% (previous record of 7.9% last July) and overtakes Citroën (-13.8%) and Dacia (+3.6%) for the first time ever. This is a very impressive result for the Japanese carmaker whose two best-selling cars (Yaris and Yaris Cross) are both produced in France, and which has recorded excellent results in the three main European markets we have discussed so far (Spain, Italy and France). Volkswagen (+45.6%) is also very dynamic but has to be satisfied with the 6th place it has also occupied since the beginning of the year. Kia (+5.2%) moves up two places from September to its best ranking of 7th, also achieved in March 2020 and October 2021. Ford (+52.8%), Audi (+25.6%) and BMW (+12.5%) are also very strong below. Lower down and in order of sales, Opel (+55.3%), Tesla (+83.2%), MG (+111%), Cupra (+89.2%), Alfa Romeo (+298.9%) and Lynk & ; Co (+369%) shine.
In terms of models, the Peugeot 208 jumped 44.8% to an exceptional market share of 7%, up from 6.2% at the start of the year, while the Dacia Sandero (+29.7%) was also very dynamic in 2nd place. The Sandero climbed to second place year-to-date, dethroning the Renault Clio (-29.3%) which had another poor month in fifth place. The Citroën C3 (-7.5%) has moved up two places from last month to third place, despite a year-on-year decline, and the Peugeot 2008, the leader a year ago, has been hit hard with -42.3%. The Toyota Yaris (+98.1%) nearly doubled its year-over-year sales and climbed to sixth place for the second time in the last three months. The Renault Arkana (+44.8%) and Peugeot 308 III (+257.4%) impress in the rest of the Top 10, while the Peugeot 3008 (-16.7%) and Renault Captur (-1.2%) are struggling. The new Renault Megane E-Tech loses three places and leaves the Top 10 at 12th place. Also note that the Toyota Yaris Cross (+309.9%), Citroen C5 Aircross (+52.2%) and Renault Twingo (+51.8%) are all strong.
Previous month: France September 2022: Peugeot 208 up to 7.2% market share, Renault Megane E-Tech in the Top 10
One year ago: France France October 2021: Peugeot 2008 signs its first victory in a declining market (-30.7%)
Complete Top 60 of October 2022 all brands and Top 75 models below.
France October 2022 – marks :
| | | | | | | | | | | |
| --- | --- | --- | --- | --- | --- | --- | --- | --- | --- | --- |
| Pos. | Brand | Oct-22 | % | /21 | Sep | 2022 | % | /21 | Pos. | FISCAL YEAR 21 |
| 1 | Peugeot | 21,106 | 16.9% | -2.0% | 1 | 204,675 | 16.5% | -14.6% | 1 | 1 |
| 2 | Renault | 18,368 | 14.7% | -10.1% | 2 | 193,651 | 15.7% | -13.2% | 2 | 2 |
| 3 | Toyota | 10,288 | 8.2% | 55.2% | 5 | 78,576 | 6.4% | -3.9% | 5 | 6 |
| 4 | Citroën | 10,267 | 8.2% | -13.8% | 3 | 109,476 | 8.8% | -19.3% | 3 | 3 |
| 5 | Dacia | 10,157 | 8.1% | 3.6% | 4 | 105,344 | 8.5% | 3.8% | 4 | 4 |
| 6 | Volkswagen | 8,503 | 6.8% | 45.6% | 6 | 75,605 | 6.1% | -16.0% | 6 | 5 |
| 7 | Kia | 4,292 | 3.4% | 5.2% | 9 | 37,676 | 3.0% | 4.0% | 10 | 11 |
| 8 | Mercedes | 4,102 | 3.3% | 2.3% | 8 | 38,396 | 3.1% | -2.5% | 9 | 7 |
| 9 | Hyundai | 3,868 | 3.1% | -2.6% | 11 | 39,173 | 3.2% | 3.4% | 7 | 10 |
| 10 | Audi | 3,652 | 2.9% | 25.6% | 10 | 34,403 | 2.8% | -17.5% | 12 | 8 |
| 11 | Ford | 3,498 | 2.8% | 52.8% | 7 | 38,630 | 3.1% | 2.7% | 8 | 12 |
| 12 | BMW | 3,482 | 2.8% | 12.5% | 12 | 34,853 | 2.8% | -7.7% | 11 | 9 |
| 13 | Fiat | 2,798 | 2.2% | -8.8% | 16 | 31,416 | 2.5% | -4.8% | 14 | 13 |
| 14 | Opel | 2,643 | 2.1% | 55.3% | 14 | 31,601 | 2.6% | -2.0% | 13 | 14 |
| 15 | Nissan | 2,202 | 1.8% | 15.4% | 18 | 21,939 | 1.8% | 0.2% | 16 | 18 |
| 16 | Skoda | 1,908 | 1.5% | 1.7% | 15 | 23,566 | 1.9% | -9.4% | 15 | 15 |
| 17 | Tesla | 1,790 | 1.4% | 83.2% | 13 | 18,030 | 1.5% | -10.1% | 18 | 17 |
| 18 | Mini | 1,615 | 1.3% | -0.5% | 17 | 19,315 | 1.6% | -4.5% | 17 | 19 |
| 19 | DS | 1,462 | 1.2% | -7.7% | 19 | 17,269 | 1.4% | -8.9% | 19 | 21 |
| 20 | Volvo | 1,301 | 1.0% | 9.3% | 20 | 10,398 | 0.8% | -22.0% | 22 | 22 |
| 21 | MG | 1,228 | 1.0% | 111.0% | 25 | 7,450 | 0.6% | 117.8% | 23 | 28 |
| 22 | Suzuki | 1,046 | 0.8% | -36.8% | 22 | 12,855 | 1.0% | -33.2% | 20 | 20 |
| 23 | Headquarters | 1,026 | 0.8% | -26.3% | 24 | 11,665 | 0.9% | -51.0% | 21 | 16 |
| 24 | Cupra | 596 | 0.5% | 89.2% | 21 | 6,232 | 0.5% | 88.1% | 24 | 30 |
| 25 | Mazda | 563 | 0.5% | -21.0% | 23 | 5,904 | 0.5% | -28.2% | 25 | 24 |
| 26 | Honda | 408 | 0.3% | -13.7% | 26 | 4,582 | 0.4% | 2.3% | 27 | 26 |
| 27 | Land Rover | 403 | 0.3% | -18.4% | 27 | 3,416 | 0.3% | -28.3% | 28 | 25 |
| 28 | Jeep | 373 | 0.3% | -60.8% | 29 | 4,925 | 0.4% | -45.9% | 26 | 23 |
| 29 | Alfa Romeo | 363 | 0.3% | 298.9% | 28 | 2,048 | 0.2% | 80.6% | 32 | 35 |
| 30 | Porsche | 330 | 0.3% | 0.9% | 30 | 2,440 | 0.2% | -15.8% | 30 | 29 |
| 31 | Lexus | 250 | 0.2% | -31.5% | 32 | 2,506 | 0.2% | -36.2% | 29 | 27 |
| 32 | Lynk & ; Co | 197 | 0.2% | 369.0% | 31 | 2,228 | 0.2% | 1514.5% | 31 | 37 |
| 33 | Mitsubishi | 190 | 0.2% | 0.5% | 33 | 1,999 | 0.2% | 40.2% | 33 | 31 |
| 34 | Alpine | 166 | 0.1% | 1.2% | 35 | 1,567 | 0.1% | 43.0% | 34 | 34 |
| 35 | Jaguar | 101 | 0.1% | 87.0% | 36 | 962 | 0.1% | -29.0% | 36 | 32 |
| 36 | Smart | 96 | 0.1% | -42.5% | 34 | 1,061 | 0.1% | -19.1% | 35 | 33 |
| 37 | Ferrari | 38 | 0.0% | 26.7% | 37 | 208 | 0.0% | -18.1% | 38 | 36 |
| 38 | DFSK | 36 | 0.0% | 620.0% | 40 | 252 | 0.0% | 1388.2% | 37 | 49 |
| 39 | Maserati | 33 | 0.0% | 266.7% | 38 | 116 | 0.0% | 39.8% | 40 | 39 |
| 40 | Lamborghini | 12 | 0.0% | 100.0% | 48 | 83 | 0.0% | -6.7% | 41 | 40 |
| 41 | Bentley | 11 | 0.0% | 10.0% | 45 | 77 | 0.0% | 63.8% | 42 | 44 |
| 42 | Caterham | 6 | 0.0% | -25.0% | 46 | 66 | 0.0% | -31.3% | 43 | 42 |
| 43 | Aston Martin | 4 | 0.0% | -42.9% | 41 | 33 | 0.0% | 3.1% | 46 | 47 |
| 44 | Secma | 3 | 0.0% | -57.1% | 42 | 54 | 0.0% | -8.5% | 44 | 45 |
| 45 | Morgan | 3 | 0.0% | 0.0% | 43 | 36 | 0.0% | -10.0% | 45 | 48 |
| 46 | McLaren | 3 | 0.0% | 200.0% | – | 6 | 0.0% | -33.3% | 52 | 51 |
| 47 | Aiways | 1 | 0.0% | -95.0% | 39 | 173 | 0.0% | -20.6% | 39 | 38 |
| 48 | Subaru | 1 | 0.0% | -50.0% | 44 | 25 | 0.0% | -28.6% | 48 | 46 |
| 49 | Rolls-Royce | 1 | 0.0% | n.a. | – | 5 | 0.0% | -54.5% | 54 | 50 |
| 50 | Leap Motor | 1 | 0.0% | new | – | 1 | 0.0% | new | 60 | – |
| 51 | Seres | 1 | 0.0% | new | – | 1 | 0.0% | new | 62 | – |
| 52 | Mobilize | 0 | 0.0% | new | – | 28 | 0.0% | new | 47 | – |
| 53 | SsangYong | 0 | 0.0% | -100.0% | – | 18 | 0.0% | -79.8% | 49 | 41 |
| 54 | Chevrolet | 0 | 0.0% | n.a. | 47 | 14 | 0.0% | n/a | 50 | 52 |
| 55 | Lotus | 0 | 0.0% | -100.0% | – | 11 | 0.0% | -73.8% | 51 | 43 |
| 56 | PGO | 0 | 0.0% | n.a. | 49 | 6 | 0.0% | #DIV/0! | 53 | – |
| 57 | Cadillac | 0 | 0.0% | n/a | 50 | 4 | 0.0% | -20.0% | 55 | 54 |
| 58 | DR engine | 0 | 0.0% | -100.0% | – | 4 | 0.0% | 100.0% | 56 | 55 |
| 59 | Bugatti | 0 | 0.0% | n.a. | – | 2 | 0.0% | n/a | 57 | – |
| 60 | Donkervoort | 0 | 0.0% | n.a. | – | 2 | 0.0% | n.a. | 58 | – |
| 61 | Devalliet | 0 | 0.0% | n.a. | – | 1 | 0.0% | n.a. | 59 | – |
| 62 | MPM Motors | 0 | 0.0% | n.a. | – | 1 | 0.0% | -87.5% | 61 | 53 |
| – | Other | 190 | 0.2% | n.a. | – | 589 | 0.0% | 1740.6% | – | – |
France October 2022 – models :
| | | | | | | | | | | |
| --- | --- | --- | --- | --- | --- | --- | --- | --- | --- | --- |
| Pos. | Model | Oct-22 | % | /21 | Sep | 2022 | % | /21 | Pos. | FISCAL YEAR 21 |
| 1 | Peugeot 208 | 8,740 | 7.0% | 44.8% | 1 | 76,606 | 6.2% | 7.3% | 1 | 1 |
| 2 | Dacia Sandero | 6,307 | 5.0% | 29.7% | 3 | 52,339 | 4.2% | -16.4% | 2 | 4 |
| 3 | Citroën C3 | 4,674 | 3.7% | -7.5% | 5 | 49,633 | 4.0% | -9.2% | 4 | 5 |
| 4 | Peugeot 2008 | 4,480 | 3.6% | -42.3% | 4 | 43,246 | 3.5% | -29.9% | 5 | 3 |
| 5 | Renault Clio | 4,350 | 3.5% | -29.3% | 2 | 51,939 | 4.2% | -24.7% | 3 | 2 |
| 6 | Toyota Yaris | 3,887 | 3.1% | 98.1% | 7 | 23,592 | 1.9% | -20.2% | 12 | 8 |
| 7 | Renault Captur | 3,594 | 2.9% | -1.2% | 6 | 38,220 | 3.1% | -17.5% | 6 | 6 |
| 8 | Renault Arkana | 3,375 | 2.7% | 44.8% | 12 | 25,676 | 2.1% | 104.7% | 10 | 21 |
| 9 | Peugeot 308 III | 3,338 | 2.7% | 257.4% | 8 | 34,728 | 2.8% | 2133.3% | 7 | 94 |
| 10 | Peugeot 3008 | 2,381 | 1.9% | -16.7% | 11 | 29,033 | 2.3% | -33.8% | 8 | 7 |
| 11 | Dacia Duster | 2,243 | 1.8% | -10.4% | 10 | 25,923 | 2.1% | 3.3% | 9 | 9 |
| 12 | Renault Megane E-Tech | 2,109 | 1.7% | new | 9 | 11,263 | 0.9% | new | 30 | – |
| 13 | Renault Twingo | 2,061 | 1.6% | 51.8% | 13 | 19,482 | 1.6% | -24.7% | 13 | 10 |
| 14 | Toyota Yaris Cross | 1,996 | 1.6% | 309.9% | 18 | 18,933 | 1.5% | 1363.1% | 14 | 82 |
| 15 | Citroën C5 Aircross | 1,946 | 1.6% | 52.2% | 14 | 16,023 | 1.3% | -17.0% | 17 | 18 |
| 16 | Toyota Aygo X | 1,899 | 1.5% | new | 27 | 7,208 | 0.6% | new | 44 | – |
| 17 | VW Polo | 1,530 | 1.2% | 21.6% | 25 | 14,677 | 1.2% | -30.9% | 19 | 15 |
| 18 | VW T-Cross | 1,510 | 1.2% | 72.4% | 46 | 9,727 | 0.8% | -18.7% | 35 | 31 |
| 19 | Hyundai Tucson | 1,486 | 1.2% | -0.3% | 26 | 14,338 | 1.2% | -8.3% | 21 | 22 |
| 20 | Citroen C3 Aircross | 1,379 | 1.1% | -18.5% | 21 | 17,552 | 1.4% | -17.1% | 15 | 12 |
| 21 | Citroën C4 III | 1,338 | 1.1% | -35.7% | 19 | 15,345 | 1.2% | -18.2% | 18 | 17 |
| 22 | Kia Sportage | 1,267 | 1.0% | 118.8% | 45 | 10,044 | 0.8% | 88.3% | 34 | 65 |
| 23 | Tesla Model 3 | 1,256 | 1.0% | 32.1% | 15 | 11,521 | 0.9% | -40.8% | 28 | 14 |
| 24 | Opel Corsa | 1,198 | 1.0% | 75.4% | 24 | 13,308 | 1.1% | -4.1% | 24 | 26 |
| 25 | Mercedes GLA | 1,152 | 0.9% | 48.5% | 31 | 7,513 | 0.6% | 35.6% | 41 | 58 |
| 26 | Hyundai Kona | 1,128 | 0.9% | 20.0% | 40 | 10,554 | 0.9% | 15.7% | 31 | 40 |
| 27 | Fiat 500 | 1,125 | 0.9% | -49.2% | 17 | 23,623 | 1.9% | 12.6% | 11 | 13 |
| 28 | VW T-Roc | 1,106 | 0.9% | 3.1% | 30 | 14,037 | 1.1% | -8.8% | 22 | 20 |
| 29 | Dacia Jogger | 1,056 | 0.8% | new | 29 | 12,305 | 1.0% | new | 25 | – |
| 30 | Ford Kuga | 1,040 | 0.8% | 81.8% | 39 | 9,157 | 0.7% | 35.2% | 38 | 54 |
| 31 | Peugeot 5008 | 1,023 | 0.8% | -35.8% | 32 | 12,088 | 1.0% | -36.3% | 27 | 19 |
| 32 | VW Golf | 1,003 | 0.8% | 85.4% | 34 | 10,264 | 0.8% | -18.7% | 32 | 30 |
| 33 | Ford Puma | 996 | 0.8% | 55.4% | 22 | 16,912 | 1.4% | 19.3% | 16 | 25 |
| 34 | Mercedes A Class | 957 | 0.8% | -8.0% | 42 | 9,518 | 0.8% | -12.1% | 36 | 32 |
| 35 | Renault Megane IV | 952 | 0.8% | -59.3% | 23 | 14,548 | 1.2% | -38.8% | 20 | 11 |
| 36 | Mini Hatch | 924 | 0.7% | -14.2% | 43 | 12,150 | 1.0% | 1.3% | 26 | 27 |
| 37 | VW Tiguan | 898 | 0.7% | 45.3% | 38 | 7,342 | 0.6% | -42.6% | 43 | 28 |
| 38 | Ford Fiesta | 877 | 0.7% | 325.7% | 20 | 5,817 | 0.5% | -30.2% | 53 | 51 |
| 39 | Toyota C-HR | 873 | 0.7% | 13.5% | 44 | 10,082 | 0.8% | -19.2% | 33 | 29 |
| 40 | Toyota Corolla | 859 | 0.7% | -38.2% | 35 | 9,323 | 0.8% | -36.5% | 37 | 24 |
| 41 | Nissan Qashqai | 843 | 0.7% | 62.4% | 47 | 8,898 | 0.7% | 58.8% | 39 | 62 |
| 42 | BMW 1 Series | 799 | 0.6% | 28.7% | 74 | 5,581 | 0.5% | -38.4% | 59 | 42 |
| 43 | Audi Q3 | 796 | 0.6% | 5.6% | 33 | 7,888 | 0.6% | -14.3% | 40 | 39 |
| 44 | Audi A3 | 773 | 0.6% | 123.4% | 56 | 6,307 | 0.5% | -14.5% | 48 | 50 |
| 45 | Volvo XC40 | 771 | 0.6% | 34.8% | 49 | 5,218 | 0.4% | -22.6% | 61 | 55 |
| 46 | MG ZS | 663 | 0.5% | 430.4% | 78 | 3,287 | 0.3% | 96.9% | 81 | 132 |
| 47 | Renault Zoe | 635 | 0.5% | -73.0% | 36 | 11,267 | 0.9% | -36.9% | 29 | 16 |
| 48 | Kia Niro | 623 | 0.5% | -22.4% | 37 | 6,550 | 0.5% | -20.5% | 46 | 46 |
| 49 | VW ID.3 | 602 | 0.5% | 34.4% | 57 | 2,726 | 0.2% | -37.4% | 89 | 71 |
| 50 | Opel Mokka | 591 | 0.5% | 18.2% | 51 | 7,070 | 0.6% | 54.4% | 45 | 68 |
| 51 | Mini Countryman | 591 | 0.5% | 68.9% | 55 | 5,725 | 0.5% | 10.4% | 56 | 61 |
| 52 | Nissan Juke | 585 | 0.5% | -14.3% | 66 | 6,192 | 0.5% | -24.4% | 49 | 45 |
| 53 | Dacia Spring | 550 | 0.4% | -75.0% | 16 | 13,572 | 1.1% | 137.9% | 23 | 36 |
| 54 | Toyota RAV4 | 548 | 0.4% | -35.4% | 53 | 5,659 | 0.5% | -34.5% | 58 | 44 |
| 55 | Tesla Model Y | 534 | 0.4% | 1953.8% | 28 | 6,508 | 0.5% | 1035.8% | 47 | 145 |
| 56 | DS 7 Crossback | 531 | 0.4% | -23.8% | 52 | 5,907 | 0.5% | -41.0% | 51 | 35 |
| 57 | VW Taigo | 531 | 0.4% | new | 68 | 5,559 | 0.4% | new | 60 | n/a |
| 58 | Kia Picanto | 510 | 0.4% | -1.2% | 75 | 3,868 | 0.3% | -23.6% | 73 | 67 |
| 59 | Audi A1 | 488 | 0.4% | 20.5% | 54 | 4,967 | 0.4% | -35.9% | 64 | 47 |
| 60 | DS 3 Crossback | 478 | 0.4% | -26.7% | 58 | 5,126 | 0.4% | -36.8% | 62 | 48 |
| 61 | BMW X1 | 467 | 0.4% | -11.9% | 96 | 5,679 | 0.5% | -13.8% | 57 | 53 |
| 62 | Kia Stonic | 463 | 0.4% | -5.1% | 73 | 3,884 | 0.3% | -15.6% | 72 | 73 |
| 63 | Kia Rio | 450 | 0.4% | 4.4% | 77 | 3,675 | 0.3% | -18.5% | 78 | 76 |
| 64 | Skoda Octavia | 441 | 0.4% | 59.8% | 48 | 3,807 | 0.3% | -26.1% | 75 | 70 |
| 65 | DS 4 | 428 | 0.3% | 133.9% | 62 | 5,732 | 0.5% | 1396.6% | 55 | n/a |
| 66 | Skoda Fabia | 416 | 0.3% | 2.2% | 50 | 6,176 | 0.5% | 27.7% | 50 | 74 |
| 67 | Hyundai i20 | 411 | 0.3% | 40.8% | 69 | 4,910 | 0.4% | 4.0% | 65 | 75 |
| 68 | Cupra Formentor | 408 | 0.3% | 51.7% | 41 | 5,063 | 0.4% | 85.9% | 63 | 106 |
| 69 | Renault Kangoo | 405 | 0.3% | 25.8% | 67 | 4,634 | 0.4% | 70.1% | 66 | 104 |
| 70 | Opel Grandland | 400 | 0.3% | 108.3% | 79 | 3,688 | 0.3% | -8.4% | 77 | 91 |
| 71 | Fiat Panda | 398 | 0.3% | 4.5% | 91 | 3,696 | 0.3% | -8.8% | 76 | 86 |
| 72 | Skoda Kamiq | 381 | 0.3% | 11.1% | 60 | 4,152 | 0.3% | -26.8% | 70 | 63 |
| 73 | Suzuki Swift | 372 | 0.3% | -58.2% | 61 | 5,741 | 0.5% | -41.3% | 54 | 38 |
| 74 | Nissan Micra | 363 | 0.3% | -4.2% | 107 | 4,257 | 0.3% | -19.3% | 69 | 66 |
| 75 | Ford Focus | 358 | 0.3% | -27.8% | 88 | 3,467 | 0.3% | -8.5% | 79 | 85 |
Source: AAA data, PFA