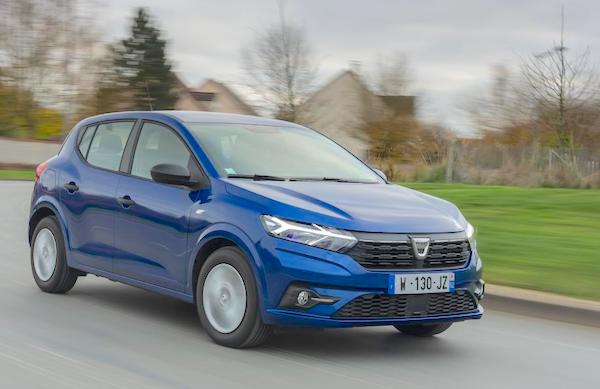 The Dacia Sandero III grew by 34.6% in a market down 19.5%.
Update of 05/24/22: Now with the Top 150 models.
The French new car market suffered a 10th consecutive month of year-on-year decline, worsening to -19.5% and 147,079 units with the microchip crisis and the Russia-Ukraine war impacting supply. Removing March 2020, which was affected by the pandemic, this is the lowest March result since 1980. Sales are down -34.9% compared to March 2019 pre-pandemic. As a result, first quarter volume was down 17.3% to 365,360 sales. Gasoline sales are down -26.1% year-on-year to 57,444 units and 39.1% share from 42.5% a year ago, diesel implodes by -50.4% to 21,075 and 14.3% share from 23.3% in 2021, HEV is down -5% to 27,860 and 18.9% share from 16%, PHEV falls -16.5% to 11,690 and 7.9% share from 7.7%. On the other hand, BEVs are doing very well, with a 27.2% increase to 19,835 units and a 13.5% market share compared to 8.5% a year ago, even catching up with diesel registrations.
Peugeot (-33.6%) scored a third consecutive victory in the brand rankings, a remarkable performance since the end of the quarter had usually favored Renault (-30.4%), which remained in second place. Citroën (-27.8%) falls to 9.4% market share from 10% at the start of the year, followed by Dacia (+31.4%), which recorded by far the strongest year-on-year increase in the Top 10 – and Top 25. Volkswagen (-10.4 %) limited its fall, while Toyota (-20.2 %) followed the market more or less. Ford (-1.3%) is almost stable above Mercedes (-21.3%). Tesla (+7.1%) and Kia (+6.5%) close the Top 10 on a positive note. Below it, Hyundai (+1.9%) is the only manufacturer to move up in the Top 20, to 12th place, while DS (-0.1%) and Skoda (-6.9%) show single-digit declines. All other manufacturers in the Top 20 are falling faster than the market, with Mini (-31.4%) and Fiat (-27.6%) being the hardest hit. Among the smaller brands, MG (+282.6%), Bentley (+150%), Cupra (+113.9%) and Alpine (+67.6%) are impressive.
In terms of models, the Peugeot 208 (-21.5%) secured a fourth consecutive monthly victory and consolidated its leadership position since the beginning of the year with a 6% share. The Dacia Sandero (+34.6%) moved up four places from February to second place overall and fourth place year-to-date. The Citroën C3 (-16.8%) fell one place to third position. It overtook the Renault Clio (-37.3%) for the second consecutive month. The Renault Captur (-26.2%) moved up two places to 5th place and the Peugeot 308 III moved up four places to break its monthly ranking record at 6th place. The Tesla Model 3 (-14.2%) moves up two spots to #7, matching its all-time high ranking, also achieved last August and December, and by far the best-selling foreign model in the ranking. Note that the Model 3 is on the podium when only private sales are taken into account. The Peugeot 3008 (-29.6%) and 2008 (-54.3%) are struggling underneath while the Citroën C3 Aircross (+10.7%) is going against the market with a year-on-year increase to return to the Top 10 at #10. The Renault Arkana confirms its success, moving up to 11th place and 10th place year-to-date. The Ford Puma (+43%) makes a meteoric rise to take the 2nd foreign spot at #12, ahead of the Fiat 500 (-11.1%) at #14, the VW Polo (-5%) at #17 and the T-Roc (+2.6%) at #18. Among recent launches, below the 308 III and Arkana, the Dacia Spring ranks #19, the Toyota Yaris Cross #22, the Dacia Jogger #32 and the DS 4 #42.
Previous month: France February 2022: Market down -13%, Tesla in the Top 10, Citroën C3 in 2nd position.
One year ago: France March 2021: Peugeot wins for the 7th time in the last 8 months, Tesla Model 3 signs its first Top 10, market down -19.1% from two years ago.
Top 55 all makes and Top 150 models of March 2022 below.