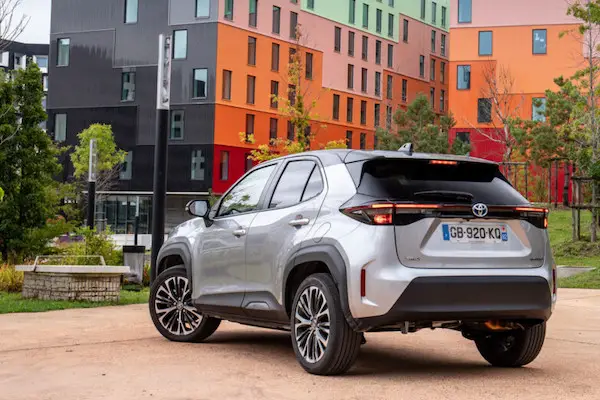 First Top 10 for the Toyota Yaris Cross in France.
Update 9/09: Now with the Top 300 ranking of all models.
New car sales in France ended 14 consecutive months of decline in August with a timid +3.8% year-on-year increase to 91,406 units. This is still a severe decline of -29.3% compared to August 2019, before the pandemic. YTD now stands at 970,933 sales, down -13.8% compared to the same period in 2021 and -39.3% over the first 8 months of 2019. Gasoline sales are up 5.8% to 35,164 units and 38.5% share from 37.7% a year ago, diesel is down -11.4% to 14,177 and 15.5% share from 18.2% in August 2021, HEV is up 14,7% to 19,607 and 21.4% share versus 19.4% last year, PHEVs are down -7.8% to 6,900 and 7.5% share versus 8.5% and BEVs are up 24.4% to 13.5% share versus 11.3% a year ago. Note that long-term rentals now account for 53% of private sales compared to 46% a year ago in August 2021.
In the brand rankings, Peugeot (+14.4%) has made very satisfactory progress from one year to the next to retain pole position with 15.6% of the market, easily beating Renault (-15.4%), which is in great difficulty at 11.9%, among the brand's historically low market shares. The following three brands are outperforming the market: Citroën (+7.3%) is back above the symbolic 10% share mark at 10.5%, Dacia (+13.1%) follows with a very strong 9.7% share compared to 8.5% since the beginning of the year, and Toyota (+9.8%) is simply signing its best ever market share in France at 7.9%, eclipsing its previous record of 7.5% reached exactly one year ago in August 2021. Volkswagen (-6.1%) is weak in 6th place while the rest of the Top 10 also outperforms the market with Opel (+37.2%), Hyundai (+9.4%) and Mercedes (+19.4%) all in excellent shape, as is Kia (+24.2%) right next to it in 11th place. Below them are Fiat (+45.2%), Skoda (+17.8%), Nissan (+33.7%), Volvo (+12.3%), Land Rover (+35.1%), Lynk & Co (+874.1%) and Mitsubishi (+125.5%), all of which are very strong.
In terms of models, the Peugeot 208 (+23.6%) retains the top spot with 6.1% market share, but the Citroën C3 (+49.5%) is even more impressive, ending the month less than 100 units behind the 208. The Dacia Sandero (-20.2%) pays the price of its first place a year ago, while the Peugeot 2008 (+33.9%) recovers fifth place in the year-to-date rankings at the expense of its nemesis, the Renault Captur (-31%), which leaves the Top 10 for the month. The Renault Clio (-36.9%) completely implodes to remain surprisingly low at 5th place overall and is now threatened by the C3 and Sandero for 2nd place since the beginning of the year. The Toyota Yaris (-9.1%) is at its highest ranking since it broke its record in August 2021 (5th), while the Dacia Duster (+27.8%) is strong again at 7th. The Peugeot 308 III loses three places compared to July and is now in 8th position, ahead of the Fiat 500 (+70.2%) which remains in 9th position. The Toyota Yaris Cross makes its first French Top 10 at the 10th place.
Previous month: Market down -7.1% for the weakest July in 51 years, Hyundai (+20.9%), Fiat (+35%) defend themselves.
One year ago : France August 2021 : Market down -15%, Sandero remains number 1, Model 3 in 7th position, Arkana in 11th position.
Top 60 all makes and Top 300 all models of August 2022 below.