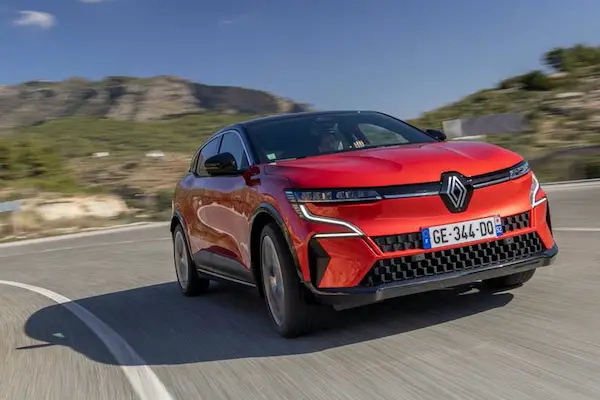 The Renault Megane E-Tech is already in the French Top 10. Photo largus.fr
Update 28/10: Now with the Top 300 all models.
The French new car market confirms that it may have bottomed out with a second consecutive year-on-year increase in September, up 5.5% to 141,142 registrations. However, this result is down -18.6% from the last year before the crisis in 2019 (173,443). YTD remains largely negative at -11.8% to just 1,112,072 units but down 530,000 sales and -32.2% from 2019 (1,641,367), a sign that the market is far from having recovered. BEVs are in the spotlight this month, eclipsing diesel sales for the first time in French history. As a result, average CO2 emissions for the month reach an all-time low of 98.3 g/km, dropping below 100 for the first time, compared to the previous record of 101.5 in December 2021.
In detail, gasoline sales are up 2.4% to 52,179 and 37% vs. 38.1% in September 2021. Since the beginning of the year, gasoline has fallen by -19.9% over the first nine months of the year to 418,514 and 37.6% market share vs. 41.4% over the same period a year ago. Diesel fell 13.7% to 20,317 units and 14.4% market share from 17.6% a year ago, and is down 34.1% year-to-date to 182,312 units and 16.4% market share from 21.9% last year. Hybrid sales are up 17.2% year-over-year to 29,539 and 20.9% share from 18.8% in September 2021. They are up 9.6% year-to-date to 237,962 and 21.4% share vs. 17.2% over the same period in 2021. PHEVs are down 1.5 percent to 11,618 vehicles and 8.2 percent market share from 8.8 percent the previous year, and down 13 percent year-to-date to 88,554 vehicles and 8 percent market share from 8.1 percent. Finally, BEVs soar 32.3% year-over-year in September, with 22,483 vehicles and a 15.9% market share compared to 12.7% a year ago, and 31.8% year-to-date, with 140,965 vehicles and a 12.7% market share compared to just 8.5% in the first nine months of 2021.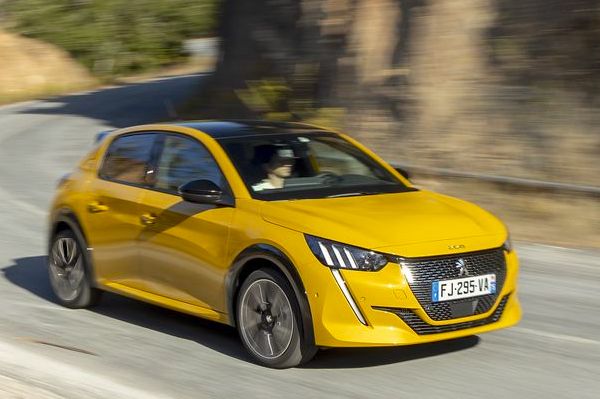 At 7.2%, the Peugeot 208 achieved its highest market share since January.
In the brand ranking, Peugeot (+13.4%) slightly outperforms the market to hold a 16.7% share, just above the 16.5% it has held since the beginning of the year. Renault (-8.6%) is in difficulty, but at 15.8%, it equals its level of last year. The end of the quarter is traditionally a strong month for Renault, but this is not the case this time. Citroën (-10.1%) fared even worse but managed to salvage third place, just 300 units behind Dacia (+2.6%). Toyota (+60.6%) recorded the strongest increase in the Top 10 and overtook Volkswagen (+7%) to move up to fifth place in the annual ranking. Mercedes (+55%) and Ford (+35.5%) also impressed in the rest of the Top 10. Kia (+1.5%) is unable to catch up with the market, but has moved up two places from August to 9th position, while Audi (-8.3%) is struggling in 10th position. Skoda (+63.1%) and Mini (+40.3%) are the top performers in ranks 11 to 20, while further down and in order of sales, Cupra (+251.4%) overtakes Seat (-55.1%) for the first time in French history by almost 2:1, MG (+353.3%), Alfa Romeo (+149%), Lynk & ; Co (+393.6%) and Jaguar (+140.9%) take off.
In terms of models, the Peugeot 208 (+47.2%) is sailing away with a superb year-on-year gain, giving it a share of 7.2%, its highest level since last January (7.4%). Strikingly, the rest of the Top 6 is entirely negative, going against the market. The Renault Clio (-10.2%) is back in second place, where it has been since the beginning of the year, after a terrible summer (8th in July and 5th in August). It outranks the Dacia Sandero (-12.1%) and the Peugeot 2008 (-7.1%), both of which remain unchanged from their August rankings. The Citroën C3 (-17.2%) falls three places from August to 5th place, while the Renault Captur (-39.5%) rises five places to 6th place, but records the worst year-on-year change in the Top 35 (!), even though it was also ranked 6th a year ago, in September 2021. The Toyota Yaris (+49.5%) continues to benefit from the effect of the new generation in 7th place and the Peugeot 308 III remains in 8th place. The event of the month is the arrival in the Top 10 of the Renault Megane E-Tech, which gains four ranks compared to last month and is now in 9th position. The Dacia Duster (+2.5%) closes the Top 10 but is not up to par. Below them, the Citroën C5 Aircross (+66.5%) and the Renault Twingo (+46.1%) are making waves.
Previous month: France August 2022: Market up 3.8%, Toyota beats record market share, Citroën C3 beats Peugeot 208 for first place.
One year ago: France September 2021: Market plunges -20.5%, Renault Arkana enters the Top 10, Dacia Spring rises to 15th place.