Google has a huge interest in the automotive sector and this is no longer a secret for everyone. Indeed, we have already seen it through its multiple projects, the most important of which remains today the Google Car, a connected car that has the incredible ability to drive itself. However, following the example of Apple with its Car Play, the Mountain View company has also recently become interested in the service dedicated to the car and has developed its own platform called Android Auto. While it was only available on cars since its launch, this service is now offered as a smartphone application.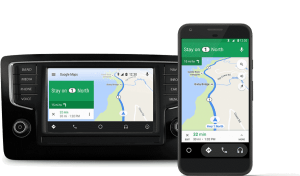 An easier way to enjoy the Android car service
With the new application developed by Google, everyone can now enjoy the features offered by the Android Auto service. This is a very simple way to use the platform. You don't need a vehicle with Android Auto options and the original system to take advantage of them. You will simply need to have an Android smartphone, download the application and install it on your device. The interface that used to be displayed on the vehicle's on-board screen will now be displayed on the smartphone. Users will be able to access all the features they need directly from this screen. It is worth mentioning here that the functions offered remain the same, namely voice command, SMS reader, music playback, etc.
Free application compatible with all types of Android smartphones
The new Android Auto app is completely free. Anyone who wants to take advantage of its features can freely download it. All you need is a compatible Android smartphone (Android 5.0 Lollipop or later). For the moment, this new update is not yet released. However, its arrival should not be long (probably in the coming days) and it should be offered very soon on the application download platform of the giant of Silicon Valley: Goog Play Store.